Bariatric (Weight Loss) Surgery:
Gastric Sleeve Center in Miami, Florida
The Gastric Sleeve Center specializes in the laparoscopic gastric sleeve procedure, one of the newest and most successful bariatric procedures. Also known as laparoscopic surgery, minimally invasive techniques enable most patients to recover more quickly and experience less pain, with less risk for blood loss and infection. The Gastric Sleeve Center is home to two pioneering bariatric surgeons who between them have authored articles on the gastric sleeve procedure, hold several bariatric patents and have trained hundreds of surgeons every year.
A study published in the Journal of the American Medical Association (JAMA) in 2004 shows how bariatric surgery can improve the following co-morbidities:
Type 2 diabetes was improved significantly in 86% of patients and resolved in 76% of patients.
High Blood Pressure was improved in 78% of patients and resolved in 61%
High cholesterol levels were reduced in over 70% of patients
Sleep apnea was eliminated 85% of patients
For more information click the following link: Benefits of Bariatric Surgery.
About Jackson South Community Hospital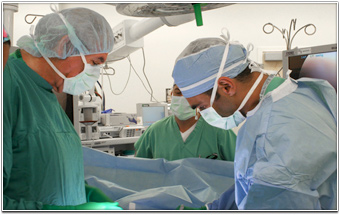 Jackson South Community Hospital is a top-tier medical facility that serves as the facility in which our gastric sleeve procedures are performed. Jackson South is committed to providing all the services necessary to make our patients' surgical journey a safe, comfortable and successful one. Jackson South offers unrivalled facilities, experienced surgeons and second-to-none post operative support to make sure our patients receive the very best care. Jackson South Community Hospital is part of the Jackson Health System that includes Jackson Memorial Hospital, once again ranked as a top hospital in the United States by US News & World Report